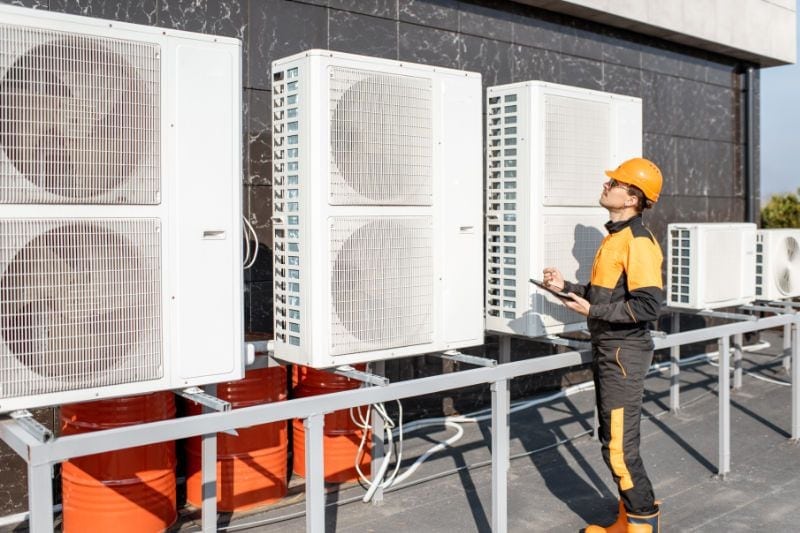 Spring is the perfect time to get your commercial heating, ventilation, and air conditioning (HVAC) system tuned up.
Why Spring for Cleaning?
As your heating systems wind down, springtime provides a well-deserved break in the action for both your heating and cooling systems. Neither is overworked in the milder in-between weather here in Louisiana. A regularly scheduled maintenance call once or twice annually can help ensure your HVAC systems will run optimally year round.
Many commercial HVAC systems fail due to a lack of regular maintenance. Get into a routine. Our Trouth Air Conditioning experts are happy to come out to your Sulphur business and check your heating and cooling systems.
We will start you on a regular schedule, typically either once or twice a year. If your systems require more professional visits, we will tailor a preventative maintenance program to meet your needs.
What Our Trouth Air Conditioning Team Does for Spring Maintenance
A commercial HVAC system is the heart and lungs of your building. It keeps you and your building's occupants comfortable and safe. And Trouth Air Conditioning is here to help.
Our commercial pros inspect, clean, and tune up your heating and cooling systems, indoors as well as outdoors.
To ensure consistency and excellence, we follow the professional HVAC standards set forth by the American National Standards Institute (ANSI), approved and endorsed by the American Society of Heating, Refrigerating and Air-Conditioning Engineers (ASHRAE) and the Air Conditioning Contractors of America (ACCA). According to the ANSI/ASHRAE/ACCA Standard 180-2018, these measures exist "to establish minimum HVAC inspection and maintenance requirements that preserve a system's ability to achieve acceptable thermal comfort, energy efficiency, and indoor air quality in commercial buildings."
Here are some highlights of what our Trouth Air Conditioning team does during our spring visit:
• We check there isn't excessive wear and tear on parts, so you're not hit with unexpected and costly repairs or replacements. If we spot something during our visit, we let you know.
• We winterize your heating system and then prep your cooling system for the hard work ahead of it in Sulphur. Examining everything from the condenser unit to wiring to evaporator coils to belts and pulleys—and everything in between—we ensure all is in optimum working order. Our maintenance team fine tunes your system to keep it both efficient and effective.
• We clean your cooler, whether it's a small air conditioning system or extensive chiller system. Our experts clean moving and stationary parts to promote high performance and to prevent excessive dirt and debris from damaging your units.
• We keep an eye on your systems from visit to visit and notify you well in advance of potential repairs and replacements. With regular maintenance calls, your heating and cooling systems will have longer lives, saving you money in the long run. You typically end up paying more long term without regular maintenance calls.
• We help you keep your manufacturer's warranties intact. The majority of HVAC manufacturers specify routine professional maintenance in their warranties. This should offer you peace of mind, and save you money, should you experience any trouble down the road.
To help you stay on top of your professional preventative maintenance, we offer commercial plans. Be sure to speak to one of our friendly and knowledgeable Louisiana team members to learn more.
Possible Do-It-Yourself Scenarios
While the majority of commercial preventative maintenance belongs in the hands of a highly trained, experienced, and licensed HVAC expert, there are some things you, as the building owner, can do yourself or have your maintenance crew take care of between our Trouth Air Conditioning professional appointments.
Your indoor air quality (IAQ) and the integrity of your entire system depends on clean filters. According to your systems' manufacturers' recommendations, how often should you replace the filters?
Clean air filters need to be a priority. Dirty, clogged filters can cause a host of negative issues, such as poor indoor air quality, equipment breakdowns, obstructed air ducts, and HVAC system drain and vent water damage due to evaporator coils freeze-ups.
As a rule of thumb, our commercial professionals recommend checking your filters monthly. If they're dirty, replace or clean them, depending on your air filter type.
Be sure to keep your Sulphur building clean. Any accumulated dust circulates and recirculates, adding to poor indoor air quality and, sooner or later, dirty air filters.
Another task you can complete yourself is to keep any outdoor air conditioning or chiller units clean and clear from leaves and outdoor debris. This buildup impedes airflow and can damage your system.
These are responsibilities you can take on in between your professional maintenance appointments. Of course, if you prefer, our team is happy to perform all these tasks as well for you. Talk with one of our Trouth Air Conditioning commercial team members for more information.
Contact Us for Your Spring Commercial HVAC Maintenance
There are many complex and important tasks involved in spring commercial HVAC maintenance here in Sulphur, LA. Our Trouth Air Conditioning commercial team's involvement saves you money overall by promoting smooth system operation and an energy-efficient performance. Call us today at 337-527-8683 or request service online to discuss your commercial maintenance needs for the spring—and all year long.