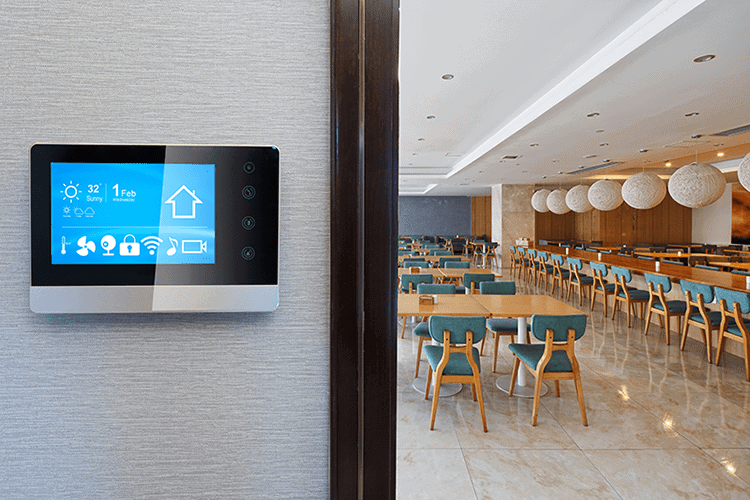 The thermostat is command central for any heating, ventilation, and air conditioning (HVAC) system. For a residential space, it is typically a very simple thermostat or zoned system, but with a commercial space, it's a whole other ball of wax. 
Since there are as many distinct needs as there are individual businesses in Sulphur, commercial thermostats need to address many scenarios. 
Typically the type of thermostats used in Louisiana commercial buildings are programmable, zoned, or Direct Digital Controls (DDC). These can accommodate many needs while reducing both energy costs and manpower. 
Our professionals at Trouth Air Conditioning are here to assist you in asking the right questions to determine which type of thermostat will work best in your commercial building.
What Thermostat Is Right for My Business?
There are so many different types of Sulphur commercial buildings––stores, rental properties, offices, restaurants, warehouses, schools––there's no way one version of a thermostat plan would work for all of them.
To help narrow down your building's needs, you must consider aspects such as geographic location, structure size, HVAC equipment, weekly versus daily usage, and ability of occupants to control temperature. Each of these considerations impacts the decision of what type of thermostat(s) would best suit your needs.
For example, if you own a small business with four employees, that's worlds apart from a condominium building with a couple hundred occupants. The small business may decide on one programmable thermostat, whereas the apartment building may utilize a separate, occupant-controlled Wi-Fi thermostat in every unit to efficiently conserve energy and give the occupants the highest comfort possible.
Delving into even more finite detail, the Centers for Disease Control and Prevention (CDC) offers specific recommendations as to operative temperature ranges for indoor spaces based not only on the season, but even more specifically and importantly on what type of clothing people are wearing at the time.
What Else Factors Into My Choice of Thermostat?
In addition to what was just covered, other details our Trouth Air Conditioning professionals may focus on are whether you need to operate your thermostat remotely, whether you need multiple zones, and the necessary type of programming features.
Smart thermostats and DDC options allow you or your employees to control the temperature from an app on a smartphone. There's no need to even be in the building. This may be a necessity for your business. Multiple zones will answer how many thermostats you require.
If you have different areas of your building that need to be temperature controlled independently of one another, say with numerous offices, conference rooms, or vacant areas, multiple zones will most likely come into play. Or you might have a server room full of computers, so the temperature may need to be adjusted differently during the day and night. Types of programming features will be dictated by what your business necessitates.
Commercial thermostats tend to be more complicated than residential due to the numerous types of Sulphur, LA, buildings. Call Trouth Air Conditioning today at 337-527-8683 to speak directly with one of our experienced professionals, or request service online. We look forward to helping you make the proper, most energy-efficient choice for your business.